Welcome to NC HERO: North Carolina Holocaust Education, Research, and Outreach. This project is a collaboration between the North Carolina Council on the Holocaust and the University of North Carolina at Greensboro. We seek to provide a resource for everyone interesting in teaching and learning about the Holocaust. The site is dedicated to:
Recognizing and honoring Holocaust survivors and witnesses who settled in North Carolina;
Broadening access to witness testimony, providing a closer connection to the people who have been part of history;
Providing materials that students and teachers can use to deepen knowledge about the Holocaust;
Showcasing and sharing ways of teaching about the Holocaust, featuring work by teachers throughout North Carolina;
Highlighting activities related to Holocaust education throughout the state.
Please explore the materials on this site and contact us if you are interested in providing or suggesting other educational items to share.
Please visit (and Like) the NC HERO Facebook page
Please subscribe to the NC HERO YouTube Channel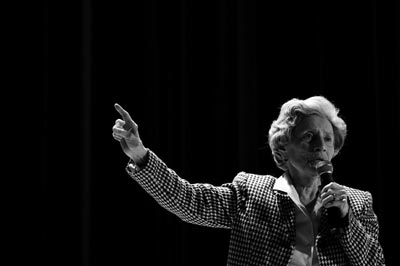 Gizella Abramson, survivor of a Polish ghetto, hiding, and Majdanek concentration camp, has been one of the state's most active speakers on the Holocaust